We are familiar with your company's goals and trouble spots. With the most effective web development in Christchurch, Jowib Technologies is here to assist you. Our dedicated team of web designers is ready to collaborate with you to construct an appealing and easily navigable website that will increase the visibility of your business. We create websites using the greatest open-source frameworks so that your business is safe and employs cutting-edge technology.
As a recognized web development company in Christchurch, we'll employ our in-house experts' experience to shape your image as your website attracts visitors closer to you. Thousands of websites have been created by us utilizing a range of techniques, from easy CMSs for straightforward web pages to specialized apps and web gateways. We'll create a fantastic website for you that is simple to use and manage, and we'll offer guidance and help you get the most out of it.
Our Offerings
Whatever your requirements are, we will embrace your project and provide results with the help of our skilled web developers.
Need a brand-new website created? Our in-house staff will collaborate with you to develop top-notch, personalized websites that are tailored to your brand's needs.
Open Source - We rely on open-source platforms like Joomla, WordPress, and Drupal to build the websites we design. It means that going ahead, your company's website will be dependable and updated.
Communication is important since it shows that we are designing the product with you in mind. As a result, we'll make sure to keep you informed at every stage of the development cycle.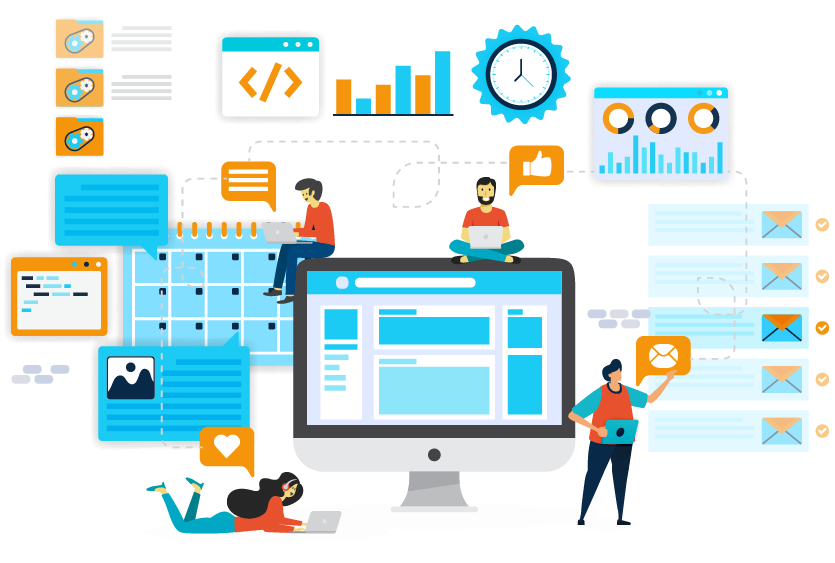 WordPress
WordPress is one of the most well-liked open-source website creation programs. We use WordPress to develop almost all of our customized projects since it is safe, has a bright future, and has a stellar reputation for being simple for clients to use once they have gone live. Additionally, it gives you the freedom to use original plugins and interfaces to improve your web presence.

User acceptance testing (UAT)
The launch of your website is almost complete. But before we approve the launch of any website, we extensively evaluate user acceptability to make sure it is in top shape. To make sure there aren't any unforeseen issues or niggles, we assess readability, browser responsiveness, and performance across a variety of devices.

Website Performance Evaluation
Every website construction comes with Yoast and Google Analytics included as standard. We'll also set up ongoing Google Analytics goal tracking so you can keep track of all your conversions. After your website has been up for three months, we'll send you a report on its performance and other ways we can help.

Technology development Platforms
You require a website that can develop and adapt along with your company. All of our websites are created in a way that makes it simple to add frameworks and plugins that support the objectives of your business. We'll link your website to things like content delivery networks and e-commerce platforms.
Let's create a
significant impact

on your business.