Are you looking for a good web development company in Chicago that can develop responsive and search engine-friendly web pages? If yes, then Jowib Technologies is a web development agency in Chicago that provides top web creation and design services worldwide with a team of experts.
The first and most crucial step for any firm that wants to expand its business is building a website. You cannot accelerate the growth of internet business without a website. Therefore, if you want to see your company grow, you must get in touch with Jowib Technologies, the top web development company in Chicago. We guarantee the best features and responsive, search engine-friendly websites.
Importance of
Fast

and

user-friendly

websites' for business

You've probably seen a lot of websites with slow load times and unfriendly navigation. How much will this affect the company, then? If your company website is difficult to use and takes a long time to load you will undoubtedly lose potential customers. The rationale is that if your website is slow and difficult to use, it won't appear in search results, which will cause you to lose out on potential clients who are searching for your services. Therefore it is important to have a fast and user-friendly website for your online business.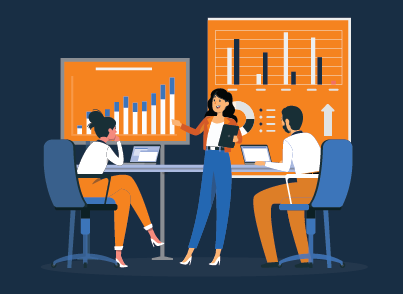 How Can
Jowib Technologies

Help You Create the Best Websites in

Chicago?
Most of our clients want to know how our website development agency can offer the greatest services. Well, we put our skills and labour into practice. Our best website development company in Chicago uses a unique procedure to give you the services. Our procedure is as follows:
The first step is to look at the requirements you offer as our starting point.
The best examples will then be given to you by our research team. So that you can understand the concept better.
The completion of the design is the following step.
Our website building professional then develops the entire website structure while keeping search engine algorithms in mind.
Finally, Our testing specialists thoroughly evaluate the entire website to ensure that you receive an error-free website.
Let's create a
significant impact

on your business.
Why Pick
Jowib Technologies

as Your

Chicago

Web Development Company?
Now that there are various website development companies in Chicago offering services associated with website development, the question arises. Why do you choose our company? The principal justifications for using our website-building services are
Our website development company has qualified developers who are capable of developing any feature in great detail.
12+ years of expertise in the web development industry.
Recognized for offering the very best services.
Additionally, we offer excellent support services, enabling you to contact us for a prompt resolution if you run into any issues.
a fully personalised website design service
delivering completely functional, highly usable, highly scalable, and productive web solutions
Granting total command over the website.