Leading

Web Development Company

in Sydney
Jowib Technologies is a leading Web development company in Sydney. We offer you professional assistance with well-equipped tools and techs in place.
Jowib technologies, the Web Development Company in Sydney, is expanding with the latest technology trends and can help you grow your business on a large scale, as per today's requirements.
We pursue a Customer-Centric approach. So we understand the entire needs of our customers and work in making user-friendly websites. Therefore, we are the leading brand for web development in Sydney. We use updated technologies for developing websites and applications. We consider clients as a team, so we are highly concerned about our client's business firms. Jowib technologies have a professional team for all aspects needed in web development.
We are the one-stop fix for all your needs related to website development. We adhere to quality and timely work completion, making us a unique web development company in Sydney.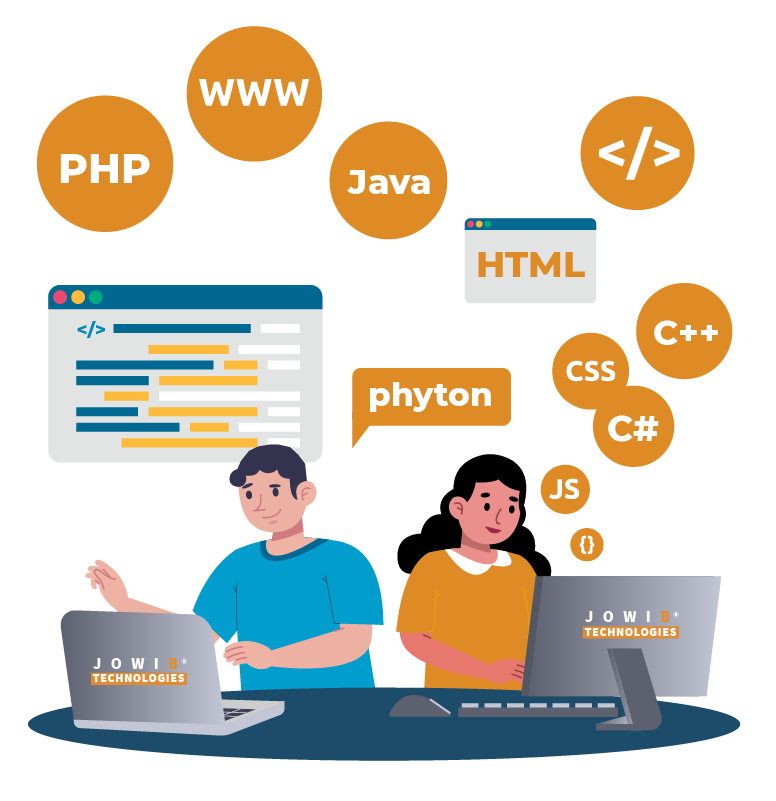 Our

Development

Process
We at Jowib Technologies offer you the best development process for your website. We offer you quality and satisfaction in your Web development-related projects.The development process is transparent as we believe in clear policies. The prime services incorporated in the development process are:
Requirement Understanding: As we work on a customer-centric approach, we understand the problems and the requirements wisely and work on them accordingly.

Designing Wireframes: We at Jowib technologies provide you with the best development process for your website. We design the best structures for your website. It acts as a reference guide for everyone working on the project.

Coding and Developing: We work as a team and follow a definite and unique process for coding and developing the best websites for your business.

Testing and Bug Fixes: We not only get your work done in the listed time frame, but we also ensure that there are no issues with your website. So we test it thoroughly as per the requirements.

Deployment: We offer you a complete Web development process from initiating to its deployment. We ensure you without bug deployment of your website as per your needs.

Maintenance: We offer the best maintenance service for your website development. We not only offer you the best services to complete your projects in the given time frame. But we also ensure that there are no issues with the website.
Tools and Technologies

we practice
There are various tools and technologies used in terms of web development. But we at Jowib technologies, give you a complete solution to your web development needs with trending Tools and technologies in the frame. Some of the best technologies are tools we use to give you quality work are:
Content Management Systems (CMS): WordPress, Joomla, Drupal, Wix, Weebly, Sitecore

Plugins: Elementor, VisualComposer, Yoast, Everest Forms, WP mush.

Web Development: Django, Ruby on Rails, Angular, React JS, ASP.Net, CakePHP.

Programming Languages: PHP, Python, HTML5, CSS3, SQL, NodeJS, Javascript.

API Tools: Zapier, Runscope, Postman, SoapUI.

Collaboration Tools: Slack, Asana, Basecamp, Jira, Zoom.

Databases: MySQL, Oracle, SQL Server, MongoDB, Redis, PostgreSQL.

Web servers: Nginx, Apache, IIS, Caddy.

Web Designing and Prototyping: ProtoPie, Framer, Affinity Designer, Photoshop, Illustrator.

CSS Processors: Less, Sass, Stylus.

Front- end Framework: jQuery, Bootstrap, Semantic-UI, Foundation, CSS/HTML.

Local Dev Environments: Xampp, Mamp, WampServer, Laragon, Vagrant.
Why choose Jowib Technologies for

Web Development

in Sydney?
Guaranteed Results:
We at Jowib Technologies offer you guaranteed results in terms of web development and other services listed like web designing, SEO (Search Engine Optimization).
Skilled Professionals:
We are a team of professionals who are competent in handling all the stuff related to your website.
Customer Support:
Jowib technologies customer support is available for you 24*7. The team is highly professional and listens to all your problems and fix them as soon as possible without any delays.
Powerful Tools:
We offer you the best quality work for your website. Our clients get their dream website live with all the simplifications and customizing required by them. We use various trending Tools and technologies to make your projects successful in all terms and conditions.
Confidentiality:
Jowib Technologies offer you confidentiality in client agreements. We do not disclose any of our agreements and other stuff with a third party. So all the information and other stuff is safe between our clients and us.
Reasonable Prices:
We offer prices that are easy for our client's pockets. As we always understand the budgets of our clients and give them quality work at affordable prices.
Tracking:
This is one of the best services you can get at Jowib technologies, as we understand our clients completely. So we provide them with a complete track of their Web development projects. This helps in building a clear trust between the two organizations. We give our client detailed tracking of every needful aspect of the project. This way Jowib technologies always ensure growth and trust.