We offer end-to-end services utilizing a variety of platforms, technologies, and design processes in order to Transform Your Business Through Technology. We offer web solutions that are secure and scalable in the long term.
Why choose Jowib technologies -
The best Web development,

Adelaide?
Creating the best, fully responsive websites that help businesses rule the market. Our firm, which is the best in Adelaide for web development, can turn your innovative ideas into visually attractive live products.
We communicate with our customers to completely grasp how you envision the growth of your company. Then we carefully create a strategy and determine how technology will aid in your company's achievement of its business objective.
We are the technology partners for
innovative and impactful

digital solutions

Years in the business

Technology Experts

Client-centric Organization

We Derive Solutions
Let's create a
significant impact

on your business.
Our
Procedure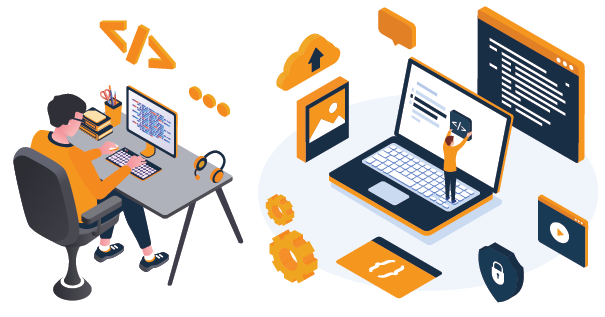 We initially get to know your brand in a better way.
We put you in front of the right audience for better reach.
The most important part of web development initially is design. We also alter the design in order to improve the appearance of your website.
It appears to have undergone magical augmentation. Our skilled engineers convert the concept into a user-friendly CMS platform. Additionally, they modify as necessary. Therefore we are the best organization for web development in Adelaide.
It's time to display your talents to the world. To help the audience recognise your brand, we promote you by utilizing our digital marketing techniques.
Why
Jowib Technologies

is the best technology partner for your Business?

We're dedicated to give you distinctive, user-friendly, secure web-based solutions that will enhance your user experience and return on investment. Our team is experienced in managing complicated projects as a Web development agency in Adelaide. Our online solutions give users a constant user experience across all platforms.
We offer the best always:
Highly Creative
Motivated Teams
We Understand
Business Needs
Quality Security
Adherence
Your Ideas Are
Transparency
Safe With Us
First Time
Right Process
Innovation
Is Guaranteed
Result-Driven
Approach
Co-Development
Teams
DevOps
Enablement
In-Depth Domain
Knowledge
Non-Disclosure
Agreement
Integrity
Frequently
Asked

Questions
#1 - How can I monitor the development of my Project?
Depending on what our clients need to know about the status of their projects, we schedule meetings on a monthly or weekly basis, so you can absolutely keep an eye on things.
#2 - How long do you usually take to build a website?
The duration of the making of the website depends upon the number of pages and the technologies used in it.
#3 - Will you provide after-sales services?
Yes, we support our clients even if the project is finished so that the client has a clear understanding of everything.
#4 - Do you use SEO (Search Engine Optimisation) to optimize the website?
Yes, we provide SEO-optimized website services since our marketing team collaborates closely with our engineers.
#5 - I can see the website's designs while it is under development or not.
Yes, we provide you with timely updates so that the necessary changes can be done.